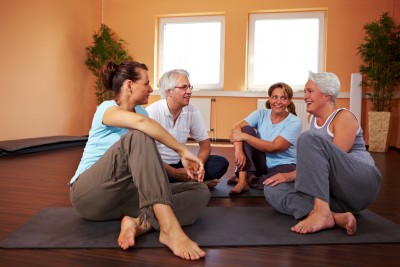 As an experienced practitioner, meetings are an excellent way of keeping in touch with the Reiki community. Whether simply checking in with your bodies and buddies, exchanging the latest Reiki news or learning new techniques and practices, Reiki meetings are an informal, relaxed environment in which to progress as a practitioner and also a thoroughly constructive way to keep up your continued professional development.
Find out if there are any Reiki meetings or exchanges locally to you, such as Falmouth Reiki Exchange run by Reiki Master Teacher Kellie Gilmour, or - contact us - to see if we can help you find one in your area.
Reiki meetings, otherwise known as exchanges or swaps, are an excellent way to touch base with your fellow practitioners. All levels/degrees should be welcome and it's a great opportunity to practice your Reiki on others, regularly receive Reiki yourself, meet new friends and discuss ideas and experiences.
As a newbie to Reiki you will find meeting up with other practitioners can offer invaluable support, especially during your cleansing. It's good to compare and affirm experiences during what is sometimes a completely new venture for some who may have never considered themselves a spiritual or energetic being. You may also pick up useful tips from those who have coped without 'vices' such as alcohol or tobacco during their own cleansing.